jQuery('.mobile-cta').appendTo('#mobile-cta-placeholder .et_pb_code_inner');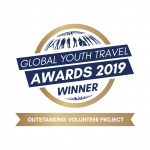 Fiji is known by many for its lush jungles, dramatic volcanic mountain sides, and colorful coral reefs. The Dawasamu District, situated on the east coast of Viti Levu, is no less stunning. Visiting this region allows you to get off the beaten track and experience true Fijian life.
Join GVI and volunteer in Dawasamu, the perfect setting for our Education and Community Expedition programs. Located in Silana, a bustling fishing village, the Dawasamu base is also close to Moon Reef with its resident pod of Spinner Dolphins. This means an excellent excuse to get out your snorkel and go for a swim in your free time. Or if you prefer dry land, why not go for a hike through the mountains and see if you can find a freshwater waterfall.
The people of Dawasamu depend on both the land and sea for subsistence. Their lives are inextricably linked to the environment and their natural resources. The village way of life that has existed for generations is still present and villages are still headed by chiefs and run by village headmen. This is a great opportunity get to know the tribal culture and to slow down and surround yourself with the sites and history of the district.
One of the most important aspects of our community development work is education. Quality education is also a United Nations Sustainable Development Goal, which aims to the ensure inclusive and quality education for all and to promote lifelong learning. Through education, people are empowered and given the ability to shape their lives and the lives of others. We aim to broaden opportunities for the people of Dawasamu in the future and as a community volunteer can be a valuable asset to this process.
Recently the the Global Youth Travel Award for Outstanding Volunteer Project in 2019 was won by the GVI Dawusamu health program. The award recognises exceptional volunteer projects with a focus on sustainability, responsibility and best practices. In close partnership with the district nurse and the ministry of health, the program successfully contributes to positive health outcomes in the community.
Download our program brochures