Sports Volunteering Abroad
jQuery('.mobile-cta').appendTo('#mobile-cta-placeholder .et_pb_code_inner');
Volunteer on one of our many sports coaching opportunities and get active, see a new part of the world, and share your love of sport with disadvantaged children in low income communities. Teach sports such as soccer in South Africa, Costa Rica and India!
Besides the fun, excitement and obvious mental and physical benefits that regular exercise provides children, it also teaches many life-skills such as the importance of teamwork, communication, discipline and improving concentration.
Get outside, get moving and get your sport on as you make a positive change in disadvantaged communities whilst developing your own skills and contributing towards your college degree. Our sports programs are suited for anyone with a love for sport and have proven to be popular amongst career breakers, students taking a gap year, or an extended holiday. Students can find out more about receiving academic credit for completing our programs.
Alternatively, volunteer with children, or join one of our teaching, animal care, public health, or construction programs. If you are studying, speak to our Country Experts about receiving academic credit. We also offer hands-on wildlife and marine conservation volunteer programs and internships that can boost your future career.
Please note that GVI has a Child and Vulnerable Adult Protection Policy that is implemented on each program. As part of the policy, participants will be required to complete a DPS check, Police Clearance, or a National Background Check where necessary, and to comply by the policy.
Our volunteers can find themselves working with children from a range of age groups at local schools and from the surrounding areas. Our projects aim to provide these children with a safe environment with encouragement, mentorship and socialisation. By offering a sports education to these children, we can help provide a much-needed distraction from more negative aspects of their lives, as well as offer them a route out of poverty and a path filled with excitement and promise.
Download our program brochures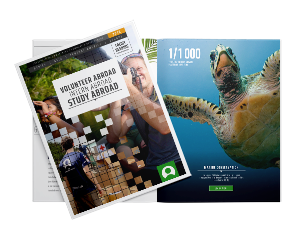 A volunteer abroad experience is something that may be hard to explain. But volunteer podcasts can give you a real-life look [...]
A volunteer abroad experience is something that may be hard to explain. But volunteer podcasts can give you a real-life look [...]