Volunteer Teaching Abroad
Volunteer to teach children in some of the world's most beautiful and remote locations where schools are often overcrowded and teachers are a limited, stretched out resource. You can become a volunteer teaching abroad on a wide variety of projects such as:
Wherever your passions and wanderlust lie, your options with GVI are endless.
Teaching is an important field to be involved in, as you have the chance to shape and redirect someone's future into something brighter and better. As a student with a passion for teaching you can start living your dream early on if you take a gap year to volunteer on one of our education programs. Although our teaching programs are popular among older volunteers too, students receive the added bonus of receiving academic credits for our programs. If you are looking to give your teaching career a kickstart, be sure to check out our international teaching internships. Check out our teaching programs in these new locations: Ghana, Peru and Cambodia.
We also run awesome wildlife or marine conservation, volunteer with children, public health, animal care, construction or sports programs.
Please note that GVI has a Child and Vulnerable Adult Protection Policy that is implemented on each program. As part of the policy, participants will be required to complete a DPS check, Police Clearance, or a National Background Check where necessary, and to comply by the policy.
GVI's volunteers play a vital part in the success and long-term sustainability of our teaching projects. With the support of our volunteers, GVI and our partner organisations are able to provide these children with a safe environment and the support, supervision, socialisation and education in a range of subjects including English, Maths, Art and Sport.
Download our program brochures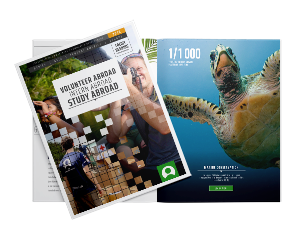 With environmental challenges becoming more of a concern, environmental awareness should be taught from an early age. Read [...]
With environmental challenges becoming more of a concern, environmental awareness should be taught from an early age. Read [...]