Journey to equatorial Ghana, known for its coastal landscape of palm-lined beaches, magnificent lakes and rivers surrounded by fecund tropical forests teeming with butterfly life, birds and Mona monkeys swinging through the treetops. Ghana, located in a subregion of West Africa, also has a rich cultural heritage stretching far into the early medieval ages, and it is here that we aim to support communities in their efforts to improve the quality of basic education offered at schools and provide women with the support they need to become more financially independent and socially empowered.
In your free time, take a walk around a nearby market to try on kente garments, known by the people of Ghana as 'the cloth of kings', or browes the bead and jewellery stalls. You can also explore the forts from the colonial era or sample Ghanaian delicacies like freshly roasted plantains, while enjoying the rhythms of local musicians and basking in the sun.
Where Does GVI Work in Ghana?
Ever since Ghana gained independence in 1957, the government has been investing heavily in sustainable development. While the country has become more prosperous, access to education has improved, and women have gained more independence, yet inequality is still prevalent.
It is here that we were invited to set up education, gender equality, and community development volunteer programs in Ghana. Since then we have been based in a small village on the outskirts of the capital of Accra, where many of the local community are sustained by fishing. Here we work with various stakeholders including governmental organisations, local NGOs, schools, and women's rights groups to create a platform for international volunteers to contribute to local sustainable development projects that assist these organisations to achieve their goals.
GVI does not support orphanage volunteering. For more information see our stance on orphanage volunteering. We also support ChildSafe, a global child protection initiative, and regularly review our comprehensive Child and Vulnerable Adult Protection policy. All our staff and participants are required to complete a police background check before arrival on the program, and on-site child protection training is provided once they arrive in the host country. We also protect children from cyber and real-world threats by ensuring that our marketing follows child protection best practices.
GVI volunteers will be living and working in at our base in Kokrobite, near Accra. and depending on their program will have the opportunity tion of assissting with classroom management and early years education development in the local kindergarten and schools. They can also choose to work on women's economic empowerment, women's health, or international development policy in an aim to promote social and economic advancement through classes and demonstrations.
Would you like to join them? Apply to book your spot or find out more about this exciting volunteering destination by chatting to one of our Enrolment Managers.
Meet the team -
Senior Field Management
Matt Craig
Program Manager
This is Matt, the Program Manager for GVI's base in Accra, Ghana. Matt has a vast array of experience in Ghana, having lived there for over 11 years. He considers his beachside village to be his new home, as he is originally from the UK.
Matt completed his Masters Degree in International Development, back in 2008. He has since put it to good work, working with a variety of NGO's before finding GVI. He loves Ghana, its music, dance, beaches as well as the cats and dogs at the base!
Meet the team -
In-Country Staff
Ash
Volunteer Coordinator
Introducing Ash, from our GVI base in Ghana. Ash started as a volunteer and is now a Volunteer Coordinator, where she ensures that projects run smoothly and are best suited for our participants.
Naa
Base Manager
Introducing Naa, the base manager of our GVI Ghana base. Naa was born and raised in Accra and ensures that things are running smoothly on base.
Thom
Volunteer Coordinator
Introducing Thom, our Volunteer Coordinator for our GVI Ghana base. He ensures that participants are safe and making an impact on all projects.
Zen
Project Manager
Introducing Zen, who is the Projects Manager for our GVI Ghana base. Zen is passionate about education, women's empowerment and is currently pursuing an MPhil in Political Science.
Download our program brochures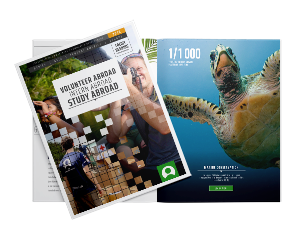 OUR VIDEOS & TESTIMONIALS
Climate justice is social justice! Read this article to find out more about how climate change is linked to social justice. [...]
Are you set on taking a gap year but not sure what to do? Check out these top gap year ideas for inspiration.
Want to make a positive impact on the world, but don't know where to start? Check out these six major global issues, and [...]