Public health internships
What a public health internship is all about
Every human being has the right to live a healthy life. The United Nations (UN) has emphasised this fact with UN Sustainable Development Goal 3: Good Health and Well-Being. But not every country has the same resources, and the quality of healthcare varies greatly across the world. So, how could this ever be achieved on a global scale?
The answer lies in public health programs that get the right types of health services to where they're needed most. Preventing illness and injury – instead of curing them – is at the heart of public health programs, and public health internships are one of the best ways to get involved in meaningful and effective work abroad. And, since the best public health internships are centred on following best practice in the field, these programs allow interns to add to work that can benefit entire communities.
And you don't need to be a medical professional to make a contribution. While our public health internships abroad are aimed at making all types of healthcare more accessible and sustainable, they don't allow you to get involved in any medical procedures or diagnostic work, as per our stance on ethical public health volunteering. By getting involved in the planning, implementation and evaluation of public health programs abroad, interns play an active role in contributing towards the health and well-being of communities abroad.
What types of public health programs are there?
Because international public health programs have a broad focus – which includes social services, nutritional services and even alternative-income opportunities – there are many ways to get involved if you want to make a positive contribution to global public health efforts. This may mean developing and facilitating health workshops, assisting with the management of a community food garden, or even adding to environmental conservation efforts that have a positive impact on the health and well-being of the local community.
Our internships in public health cover every area of care with programs focusing on:
community health and well-being

childhood and adult education

women's empowerment.
Because we're focused on being a part of sustainable global solutions, our organisation no longer provides public health internship positions at orphanages. Instead, we work closely with the local community and partner organisations and get involved in the types of projects that make the biggest sustainable impact.
You can also opt to do your public health internship as a core internship, career internship or research internship. Each of these opportunities gives you a solid foundation in the field of public health while allowing you to take on the tasks you're most interested in on a day-to-day basis.
How a public health internship can benefit you
What makes international public health internships the best choice for any budding public health employee? Well, the best public health internships provide a platform where skills development is inseparable from a meaningful experience abroad.
While lectures and at-home experiences can give you a glimpse into public health programs, a public health internship abroad takes skills development to the next level. International public health internships will get you involved in relevant efforts on the ground that are guaranteed to build on your professional development and improve your employability in the field.
And, as a British Standards 8848 compliant provider, GVI offers public health programs abroad that factor business best practices into every public health internship.
How can I take part in an internship abroad?
Gaining work experience is a top priority for anyone signing up to take part in an internship abroad. But, growing your employment potential doesn't have to mean scrambling for just any opportunity out there – why not find your perfect fit
With GVI, you can tailor your experience abroad by picking a program you're passionate about and then choosing whether to do it as a core internship, career internship or research internship.
No matter your internship type, you'll be guaranteed the following on your program:
comprehensive support before, during and after your program, including our group support call before your program, and access to our alumni services

enrolment into three University of Richmond endorsed courses, including our leadership course, community development specialisation course, and careers in sustainable development course

pre-program training with our GVI around the world presentation, which'll show you how your program fits into global efforts

support from a remote supervisor

two career mentoring sessions with a career advisor after your program.
If you're still working on the ins and outs of your five-year career plan is but know that you want to get involved in public health, you can set off on a core internship and gain valuable insight into every area of the field – including nutrition, physical education and reproductive health – and figure out the way forward as you go.
In addition to your standard program work, you'll be able to take on additional leadership tasks, like leading nutrition workshops, or gathering testimonials from local partners. And you'll be guided along the way by your remote internship supervisor.
Or are you the intern who's had their professional development plan set since the seventh grade and is looking to grab every opportunity to help you land a job in a specialised area of public health? If you're one of these individuals, career internships will intensify the work you can do in public health, and speed up your progress to achieving your professional goals.
You'll take part in additional, collaborative project work with local and international partners (in person, or virtually) and liaise with other career interns who're working to advance public health goals from other GVI locations. And as you broaden your global network in your field of choice, you'll receive guidance and support from your remote career internship supervisor.
Research internships
And, for interns who'd prefer to be steeped in scientific research while working abroad? Well, choosing a research internship means that you can collect armfuls of additional data during on-the-ground research, analyse heaps of important information, and contribute to a whole host of global studies aimed at advising efforts that build on achieving the United Nations Sustainable Development Goal 3: Good Health and Well-Being.
You can opt for this internship type to feed into research for your thesis, dissertation or other paper, and gain access to existing GVI datasets and guidance from a remote research internship supervisor.
Where can I get involved in a public health internship abroad?
Public health internships in Asia
Asia is home to the world's fastest growing population and offers some of the most impactful internships in public health that will add to your professional development in a big way.
Engage in international public health internships in Cambodia
As apparent as the ruins studding the outskirts of the city of Siem Reap, Cambodia, are the public health programs making an impact in the day-to-day lives of this Asian community. Here, public health programs are focused on teaching and education, marketing and communication, as well as health-specific education and health research.
Take part in public health internships abroad in Thailand
Put your public health knowledge into practise along the edge of the Andaman sea while interning in Phang Nga. Facilitate workshops and activities that promote good health, nutrition, hygiene, sanitation and exercise amongst community members young and old.
Lean into internships in public health in Laos
Visit the United Nations Educational, Scientific and Cultural Organisation (UNESCO) Heritage Site of Luang Prabang in Laos, and soak up the culture while getting involved in women's reproductive health in a meaningful way.
Read more about public health efforts in Laos in this article: Menstrual health in rural Laos.
Make an impact on a public health internship in Nepal
In the city of Pokhara, where the forested terrain is punctuated with temples and shrines, our public health programs follow the lead of the local community. Here public health interns get stuck into existing sustainable community development projects, and get to plan, implement and adapt their own health-focused activities too. You could also contribute towards women's empowerment and childhood development projects, and build on the community's capacity to ensure their own health and well-being.
Get involved in internships in public health in India
In Kerala, the shoreline stretches for kilometres, the mountainous slopes are swathed in tea plantations, and there's ample opportunity to get involved in public health.
By getting involved in our long-term community development internship you'll be adding to a wide variety of public health activities that are already making a positive impact.
There's also the chance to make a contribution over a shorter period of time by planning and facilitating health workshops with women and children at local schools and women's organisations.
International public health internships in Africa
As a continent facing some of the biggest global public health challenges – like the Human Immunodeficiency Virus (HIV) and Acquired Immunodeficiency Syndrome (AIDS) – many African people require ongoing health intervention. Public health efforts can have a far-reaching effect in Africa, where gaining access to quality healthcare can be a challenge in itself.
Participate in public health internships abroad in South Africa
As important to Cape Town as its flat-topped Table Mountain is its culture of sport. From soccer and cricket to swimming and sprinting, many South Africans are passionate about working up a sweat. You could experience this side of South Africa by facilitating sports lessons with school children in areas where a lack of facilities or equipment can make it challenging to participate in sports activities. And, if you're looking for something less physical, a public health internship in women's empowerment can have you adding to the well-being of this African community in a big way too.
Contribute towards a public health program in Ghana
In the city of Accra internships in public health are set alongside the sea, and look to address the most relevant factors that influence the health and well-being of the local community. By planning and facilitating workshops and activities on gender equality, skills development and other health-related topics, interns assist women and children in improving their health knowledge and implementing aspects of healthy living in their everyday lives.
Get involved in an internship in public health in Australasia
And if you'd prefer to realise your public health prospects amidst a tropical setting, where palm tree fronds rustle beneath expanses of sky, then our island-based public health internships abroad will probably tickle your fancy.
Island communities face some of the biggest health challenges due to the effects of climate change – like rising sea levels and marine pollution. While these effects have obvious repercussions on the health of the environment, they also significantly affect the health of local people.
You can make a positive impact in the health and well-being of the community in Dawasamu Fiji by building on sustainable development initiatives – like programs focused on fresh water management, environmental monitoring and mapping and health awareness. Work towards providing women with equal opportunities to achieve and maintain good health by facilitating income-generation opportunities and health education workshops. Or, assist healthcare workers in promoting disease-prevention awareness and hygiene practises amongst the local community.
Who are GVI's partners on a public health internship program?
GVI prides itself on partnering with reputable organisations in every location we work in. These partners align with our ethical commitments and keep sustainability at the centre of their activities. No matter which one of our internships in public health you take part in, you'll have the opportunity to work with and learn from the best in the business. Find out more about our long list of partner organisations here.
How is health and safety ensured on an internship in public health?
When travelling and working abroad anything could happen, but the best public health internships are set up to ensure your health and safety on base, while working in the community, as well as at your internship placement.
Our strict Health and Safety policy is regularly reviewed and updated, and all staff and participants undergo comprehensive health and safety training. Our in-country and head office support staff also offer participants assistance throughout every international public health internship, allowing us to prioritise intern health and safety every step of the way.
Download our program brochures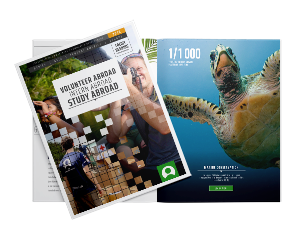 Fall public health internships aren't just a way to gain work experience. They'll also help you to wrap your head around [...]