Construction Volunteering Abroad
Volunteer on sustainable construction projects around the world and help lay the foundations that will set up basic infrastructure in developing communities for years to come. Contributing to building or renovation work is a great way to see the direct impact you will have on the country, while having the unique opportunity of experiencing life inside these communities.
Get your hands dirty in exciting and exotic locations such as Fiji, South Africa, Thailand, Costa Rica, the Seychelles and more!
Help build classrooms and jungle gyms for the local children,
Improve sanitation
Take part in basic repairs and renovation, or
Give an old building a fresh coat of paint.
If your are looking to get involved in critical construction programs in disadvantaged areas around the world, look no further. We give new meaning to hands-on, practical skills with our rewarding construction efforts around the globe. Come enjoy a real-world experience and make the most of your gap year or volunteer holiday. Students should find out more about receiving academic credits for our construction programs. Alternatively join a construction internship and enjoy extensive training and mentorship on sustainable building development. You can also join one of our teaching, animal care, public health, or sports programs. We also offer hands-on wildlife and marine conservation volunteer programs and internships that can boost your future career.
Our volunteers play a key part in contributing towards our construction project's goals. GVI aims to address basic human needs and protect those most at risk. We work to build or improve key infrastructure, and thereby, improve the communities' access to public health, education and children's development.
Download our program brochures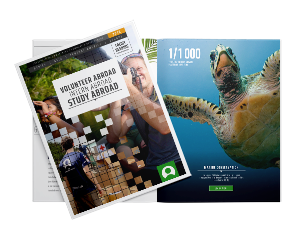 A volunteer abroad experience is something that may be hard to explain. But volunteer podcasts can give you a real-life look [...]
A volunteer abroad experience is something that may be hard to explain. But volunteer podcasts can give you a real-life look [...]