Community development internships
What community development internships are all about
Volunteering with communities abroad is a way to make a positive impact across the globe. But, what exactly does community development mean? And, what work would you get involved in as a community development intern?
Well, an internship in community development is all about making an impact while gaining real-life experience that expands on your career development in a meaningful way. These opportunities include work that builds on achieving the United Nations Sustainable Development Goals (UN SDGs).
Community development internships focus on sustainable development activities like:
facilitating English language lessons with school children and classes with adult learners

developing and implementing youth and women's empowerment workshops

leading skills development sessions to help set up alternative forms of income and increase people's access to gainful employment opportunities

adding to infrastructure in inland, coastal or island settings

contributing to program fundraising activities.
Our internships offer you the opportunity to achieve your personal and professional goals, whether or not you're planning to work in community development in the future. And, the added excitement of travelling abroad will grow your global and professional perspective in a big way too.
Surround yourself with rainforest terrain in the jungles of Costa Rica's Tortuguero National Park. Once immersed in this lush setting, you'll get an eyeful of an environment you may never have seen before. You could even spot giant lily pads – with flowers the size of footballs – floating on the surface of a nearby river or lake.
Or, take on a community development internship in Laos. Crossing a bamboo bridge to reach the other side of a river may become a just-another-day-at-work experience for you. With every step you take, you'll hear the croaking of tree frogs coming from up high – and don't get tripped up if one decides to skydive from the branch of one towering tree to another.
As a community development intern, you can travel to settings like these and so many more. You could choose from programs on four different continents, in numerous countries across the globe.
We have three different internship types available: core, career and research internships. Each of these internship types will help you to advance different professional and personal goals, depending on what you hope to get out of the experience.
How will a community development internship add to my success in the future?
With programs developed with local communities using the UN SDGs as a roadmap, you'll help make an impact and build on long-term, global goals.
Every one of our community development internships aims to add to the access that individuals across the world have to quality education, a healthy environment, quality healthcare, and gainful employment.
And working on a community development internship has benefits that'll keep going into the future. Being part of this type of work means you'll come away with a more well-rounded perspective on sustainable development and build on your intercultural communication skills too. This kind of growth will benefit you in any field you choose to enter into in the future.
In addition to this, having committed to travelling abroad to complete an internship will show employers that you're serious about your professional development and willing to do what it takes to land your ideal job.
To ensure that the work we do abroad is ethical, GVI has a Child and Vulnerable Adult Protection Policy that is implemented on every one of our community development internships. As part of this policy, participants will be required to complete a DPS check, police clearance, or a National Background Check where necessary.
Together, these factors make for a world-class internship wherever you may travel to.
What types of community development internships are there?
An internship experience abroad will not only give you the chance to boost your employability, but you can pick an internship type that will help you to meet your current needs and future goals.
How?
Well, GVI community development interns can choose between three different internship types for any of the programs they're interested in taking part in.
What does this mean?
It means that you can choose to do any one of our community development internship programs as a core, career, or research internship. And which is best? Well, that all depends on the tasks you'd like to focus on while abroad.
But whichever internship type you chose, you'll gain:
comprehensive mentorship and feedback from a remote supervisor

a reference from your supervisor, as well as a LinkedIn reference and relevant endorsements (for career and research interns)

online, pre-program training in leadership and community development that's recognised by the University of Richmond, as well as access to our post-program careers course

hands-on field training in sustainable development and community development best practices

real-world experience working with local organisations as well as local community members

access to our job portal, which collates vacancies in the sector

a job guarantee (for career and research interns who complete a 6-month program)

two career coaching sessions.
Core
internship
If you'd prefer to stick with a more general approach to interning in community development, a core internship would be a great fit and allow you to gain broader insight into the field. For example, every intern on our Youth Empowerment Internship in Cambodia will work with primary school children, be involved in facilitating English language lessons, and participate in other projects requested by local community members.
You might also get to take on a research project that looks to answer key questions about the development, implementation, and effectiveness of community development programs in Siem Reap, Cambodia.
As a core intern, you'll also have additional responsibilities for leadership on the GVI base. You might: lead educational sessions, organise fundraisers or support with marketing initiatives.
And you'll be guided along the way by your remote internship supervisor.
Research internship
In contrast, research interns will have much more exposure to research tasks in community development. This may mean raking in data about the effectiveness of island infrastructure improvements – that'll add to ongoing international or local studies – while working in Fiji's Dawasamu district. It could also mean engaging with local women while facilitating reproductive health workshops in a community in Laos to collect important information that you'll use for your thesis.
As a research intern, you'll be supported in your efforts by a remote research internship supervisor, have the chance to tap into GVI's existing datasets, and collaborate with researchers in our other global hubs. You'll also receive GVI's job guarantee if you complete a program of 6 months.
Career internship
And, if you're looking to expand your global network in a specific area of sustainable development, like international community development, community development research, or community development in areas with limited resources, then you'll gain tons of experience on a career internship.
As a career intern, you'll have opportunities to collaborate with numerous organisations, both locally and internationally, on top of your standard project work. In this way, you'll gain insights into how community development work is managed in vastly different local contexts.
You might, for example, delve into operations management for a nonprofit in Mexico and support staff with their day-to-day responsibilities. Or, perhaps you'll work with local and international women's groups to help fine tune their English language curriculum and activities for skills development workshops.
Whatever the project, you'll be engaging with community stakeholders, partners and experts across the globe. All the while, you'll be guided by your remote career internship supervisor and have chances to network with other global career interns.
Download our program brochures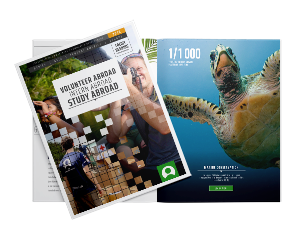 For those who love being surrounded by the ocean, Fiji is the perfect place to volunteer abroad.